Apr 23, 2022
What color palette should your bridesmaid dresses be? It's a question that every bride-to-be agonizes over. After all, you want your bridal party to look cohesive and beautiful – but you also don't want them to overshadow you on your big day! So if you're stumped on what color scheme to choose, never fear – we've got perfect palettes for every wedding theme right here. So take a look, get inspired, and find the perfect dress color for your bridesmaids!
The top wedding dress color palettes for your bridal party
When it comes to wedding planning, there are a million and one things to think about the dress, the cake, the flowers, the guest list… And, of course, pick the perfect bridesmaid dresses to complement your overall vision. With so much on your plate already, we wanted to make finding the right hues for your maids easier. Here, we break down the best color palettes for every type of wedding, from black-tie formal to laid-back beachy.
For a Black-Tie Formal Wedding:
Think classic elegance with a touch of glamour when choosing bridesmaid dresses for a black-tie formal affair. Opt for rich jewel tones like ruby red or emerald green, or go for a timeless look with navy blue or hunter green. If you want to add a touch of sparkle, consider dresses in metallics like gold or silver. And don't forget the accessories! Your 'maids will need long gloves and sparkling statement earrings to complete the look.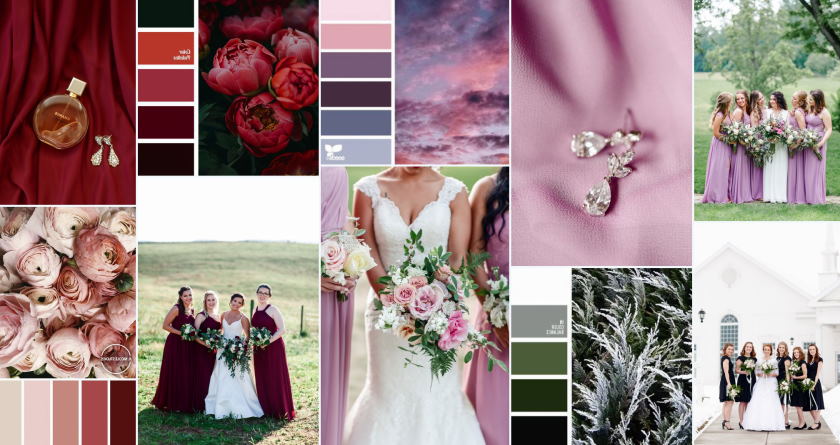 For a Rustic Country Wedding:
If you're planning a rustic country wedding, you'll want your bridesmaids to look the part. So choose dresses in soft, earthy tones like dusty rose, light mauve, sage green, or ivory. For a more whimsical look, go for pastel hues like baby blue or lavender. And if you want to embrace the country theme, have your 'maids wear cowboy boots!
For a Beachy Destination Wedding:
For a beachy destination wedding, you'll want your bridesmaids to be both comfortable and stylish. So choose light, airy fabrics like chiffon or linen in breezy silhouettes. And when it comes to colors, think tropical hues like coral, pink, or turquoise. To finish the look, have your 'maids wear their hair up in beachy waves or natural-looking braids.
For a Winter Wonderland Wedding:
If you're having a winter wonderland wedding, you'll want your bridesmaids to look like they just stepped out of a fairytale. Rich jewel tones like deep purple, burgundy, or forest green will look stunning against the snowy backdrop. And don't forget the fur! A faux fur stole or capelet is the perfect way to keep your 'maids warm while they walk down the aisle.
For a Glamorous Hollywood Wedding:
You'll want your bridesmaids to look like they just stepped off the red carpet for a glamorous Hollywood wedding. Think long, flowing gowns in rich jewel tones or metallic hues. And don't forget the bling! Statement jewelry and glittering heels will add a touch of Old Hollywood glamour to the look.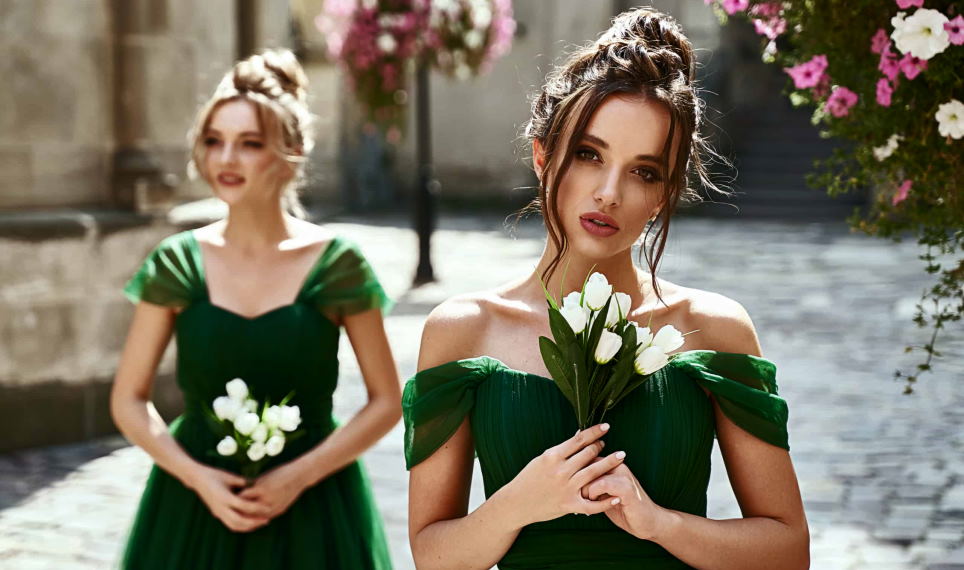 How to choose the trending bridesmaid dress color palette
Choosing the right color palette for your bridesmaids' dresses is key in creating a cohesive and stylish wedding party look. There are a few things to consider when selecting the perfect hues for your girls.
First, take into account the overall tone and style of your wedding. If you're planning a romantic affair, muted colors or even pastels could be lovely choices for your ladies. A bohemian bride might prefer her maids in earthy tones, while a glam bride might go for something brighter and bolder.
Next, think about what colors will complement your own bridal gown. You want your girls to look great next to you, so choosing hues that compliment your dress is a good place to start.
Finally, consider the season of your wedding when selecting your colors. Some shades are more appropriate for certain times of year than others. For example, jewel tones might be lovely for a winter wedding, while brighter shades might be better suited for a summer celebration.
Keep these tips in mind, and you'll be sure to choose the perfect color palette for your bridesmaids' dresses!