Jan 9, 2022
There's no denying that wedding nails are having a moment. From simple and understated to elegant and ornate, there's a nail art style for every bride. One of the most popular trends right now is nail art with rhinestones. This touch of glamour can take your nails from average to extraordinary. So if you're looking to add some sparkle to your wedding look, read on for tips on how to achieve this trendy look yourself.
Unique rhinestone nail art designs to inspire your wedding manicure
Your wedding is a very special day, and you want everything to be perfect, including your nails! A great way to add a touch of glamour to your wedding day look is with rhinestone nail art. Rhinestones can be used to create all sorts of stunning designs, from simple and elegant to over-the-top and glamorous. You can even have your nails done in your wedding colors for a truly unique look.
If you're not sure how to get started with rhinestone nail art, there are plenty of resources available online and in beauty magazines. You can also find kits with everything you need to start. Once you have the supplies, it's simply a matter of choosing a design and following the instructions. Of course, if you're not confident in your abilities, you can always hire a professional nail artist to do your nails for you.
Rhinestone nail art is the perfect way to add a touch of glamour to your wedding day look. With a little time and effort, you can create stunning designs that will make your nails look amazing.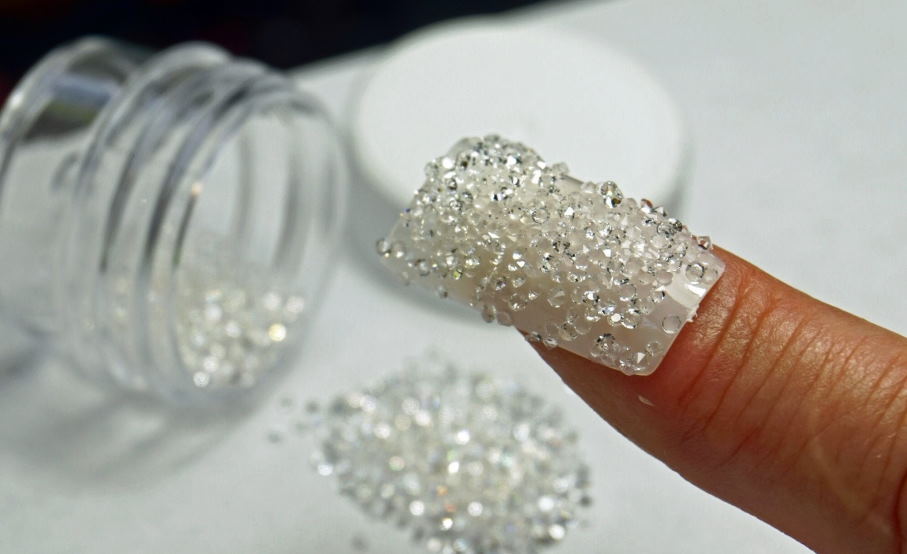 Applying rhinestones to your nail art
Nails are one of the most important accessories on your wedding day. Not only do they complete your overall look, but they also protect your fingers from any accidents. So, choosing a nail design that complements your dress, bouquet, and other accessories is important. If you're looking for a touch of glamour, consider adding rhinestones to your nails. Here are a few ideas to get you started.
Choose a classic design. If you're going for a traditional look, try a simple nail design with rhinestones in complementary colors. For example, add silver rhinestones to light-colored nails or gold rhinestones to dark nails. You could also try different shapes like diamonds or hearts.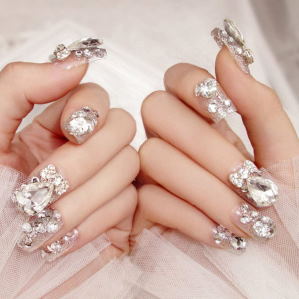 Create an ombre effect. Another popular trend is ombre nails. This involves using two or more colors of polish to create a gradual fade from one shade to another. To add rhinestones, start by first painting your nails with the lightest color. Once that's dry, add Rhinestone stickers in graduated sizes (starting at the cuticle and getting bigger as you go up the nail) in the desired color over the lighter color coat. (use this sentence if needed: For example, try pale pink with gold rhinestones or baby blue with silver ones.)
Add some sparkle. If you want something really special, go for glittery nails! Add just a hint of sparkle by scattering rhinestones randomly over wet nail polish (make sure they're glued on well, so they don't fall off). Or take it up a notch by creating an entire French manicure with glittery tips and accents around the cuticles)
Whatever style you choose, adding some bling will make your wedding nails stand out!